About Magmatic
Magmatic Resources Limited (Magmatic) is an ASX listing mining exploration company.
Counter Cyclical Acquisition of Advanced Target Portfolio
In 2014, Magmatic completed a counter cyclical acquisition of an advanced gold-copper target portfolio in the East Lachlan Gold-Copper Province in New South Wales, Australia.
The acquisition formed a part of a global divestment by Gold Fields Limited and followed a major phase of target generation across four main projects (Wellington North, Parkes, Myall, Moorefield).
The East Lachlan has an endowment of more than 80 million ounces of gold and 13 million tonnes of copper (Phillips 2017). It is most famous for Newcrest's world class porphyry gold-copper cluster at Cadia Valley, where the Cadia East Mine currently represents Australia's largest gold mine and one of the world's most profitable gold producers (A$1.4B free cash FY19, Newcrest 2019). In addition, the Northparkes porphyry cluster (3.8Moz Au, 3.4Mt Cu – China Molybdenum/Sumitomo, CMOC 2018) and Cowal Deposit (>11Moz Au – Evolution Mining, Evolution 2018) also represent significant long-life mining operations.
The recent Boda Discovery by Alkane Resources Ltd has highlighted the region's potential for further Tier 1 discoveries. In particular, this discovery demonstrates the potential of the northern Molong Belt for major porphyry gold-copper discoveries where the company holds an advanced target portfolio and dominant tenure position.
Northern Molong Belt an Emerging Hotspot for Gold-Copper Porphyry Discovery
Magmatic's Wellington North Project covers a majority of the northern Molong Belt essentially surrounding  the Boda porphyry gold-copper discovery made by Alkane Resources in September 2019 (ASX ALK 9/9/2019: 502m at 0.48 g/t Au and 0.20% Cu from 211m down hole and open at the end of hole).
"Alkane has just made the best porphyry exploration discovery in the Lachlan Fold Belt outside the 3 major mines, in the last 20 or so years." (ASX AQX 19/9/2019) – John Holliday (led the Cadia-Ridgeway discovery team)
The Boda discovery has also highlighted the porphyry exploration signature in the northern Molong Belt and has had an immediate impact on the ranking of Magmatic's exploration targets in the Wellington North Project.  Several targets have been upgraded for Boda-style and Cadia East-style porphyry gold-copper mineralisation, with ongoing exploration, including MIMDAS geophysics, upgrading the prospectivity of the Lady Ilse Prospect for Cadia East-style porphyry gold-copper mineralisation.
Forthcoming drilling of a Cadia East-style gold-copper porphyry system at Lady Ilse
In December 2019, Magmatic confirmed the appointment of New South Wales porphyry specialist Mr Peter Duerden as Managing Director effective from Monday, 3 February 2020. Magmatic's former Managing Director, Mr David Richardson, who transitioned to Executive Chairman upon Mr Duerden's appointment, said "Peter is a leading expert on East Lachlan porphyry gold-copper systems. He led Alkane Resources' North Molong Belt gold-copper porphyry exploration for 10 years and his work contributed significantly to Alkane's recent Boda gold-copper porphyry discovery. In addition, Peter served as district geologist for Newcrest at Cadia Valley which provides him a unique insight for assessing the companys assets in the northern Molong Belt and wider East Lachlan."
CMOC 2019., China Molybdenum Company Limited, http://www.cmocinternational.com/australia/
Evolution., 2018, https://evolutionmining.com.au/reservesresources/
Phillips, G N (Ed), 2017. Australian Ore Deposits (The Australasian Institute of Mining and Metallurgy:
Melbourne)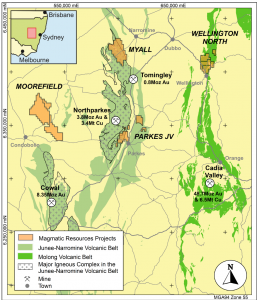 Meet the team
Corporate directory
Board
David Richardson         Executive Chairman
Peter Duerden              Managing Director
David Berrie                 Non-Executive Director
David Flanagan            Non-Executive Director
Andrea Betti                  Company Secretary
Senior Management
Mike Franklin                Chief Financial Officer
Steven Oxenburgh       Exploration Manager
Investor & Media Relations
Warrick Hazeldine
Cannings Purple
+61 8 6314 6300
Email: whazeldine@canningspurple.com.au
Registered Office
Suite 8, 1297 Hay Street,
West Perth WA 6005
Telephone: +61 8 9322 6009
Email: info@magmaticresources.com
Website: www.magmaticresources.com
Postal Address
PO Box 785,
West Perth WA 6872
Company Details
ABN: 32 615 598 322
ACN: 615 598 322
ASX Code: MAG
Stock Exchange
Level 40, Central Park
152-158 St Georges Terrace
Perth WA 6000
Share Registry
Computershare Investor Services Pty Ltd
Level 11, 172 St George's Terrace
Perth WA 6000
Telephone: 1300 850 505
Telephone: +61 8 9415 4000
Auditors
BDO Audit (WA) Pty Ltd
38 Station Street
Subiaco WA 6008
Governance
The Board believes that high standards of corporate governance are an essential prerequisite for creating sustainable value for shareholders. The Corporate Governance Statement sets out the Company's main corporate governance policies and practices. All these practices, unless otherwise stated, were in place for the entire year ended 30 June 2019. The policies and practices are reported against the 3rd Edition of the ASX Corporate Governance Council's Corporate Governance Principles and Recommendations. Where the Company's compliance with the Principles and Recommendations is reflected in a separate document or policy, a reference to the location of that document or policy is included in the Statement.