WELLINGTON NORTH PROJECT (GOLD-COPPER)
Magmatic Resources Ltd 100%
Magmatic's 100%-owned Wellington North Project covers the northern extension of the Molong Volcanic Belt, located ~110km north and along strike from Newcrest's world-class Cadia Valley gold-copper deposits and surrounding Alkane Resources' recent Boda discovery (ASX ALK 9 September 2019).
The recent Boda gold-copper discovery by Alkane Resources Ltd (ASX ALK 9 September 2019) has highlighted the value of Magmatic's dominant surrounding tenure position in the northern Molong Belt, in what is emerging as a significant discovery hotspot.  The Boda discovery has highlighted the surface signature of mineralisation in the area, as described in ASX ALK 15 August 2017 and has significantly upgraded Magmatic's target portfolio for Boda-style gold-copper mineralisation (Lady Ilse District, Boda North, Boda South, Rose Hill, Ninety, Rockleigh, Mayhurst and Mayhurst East).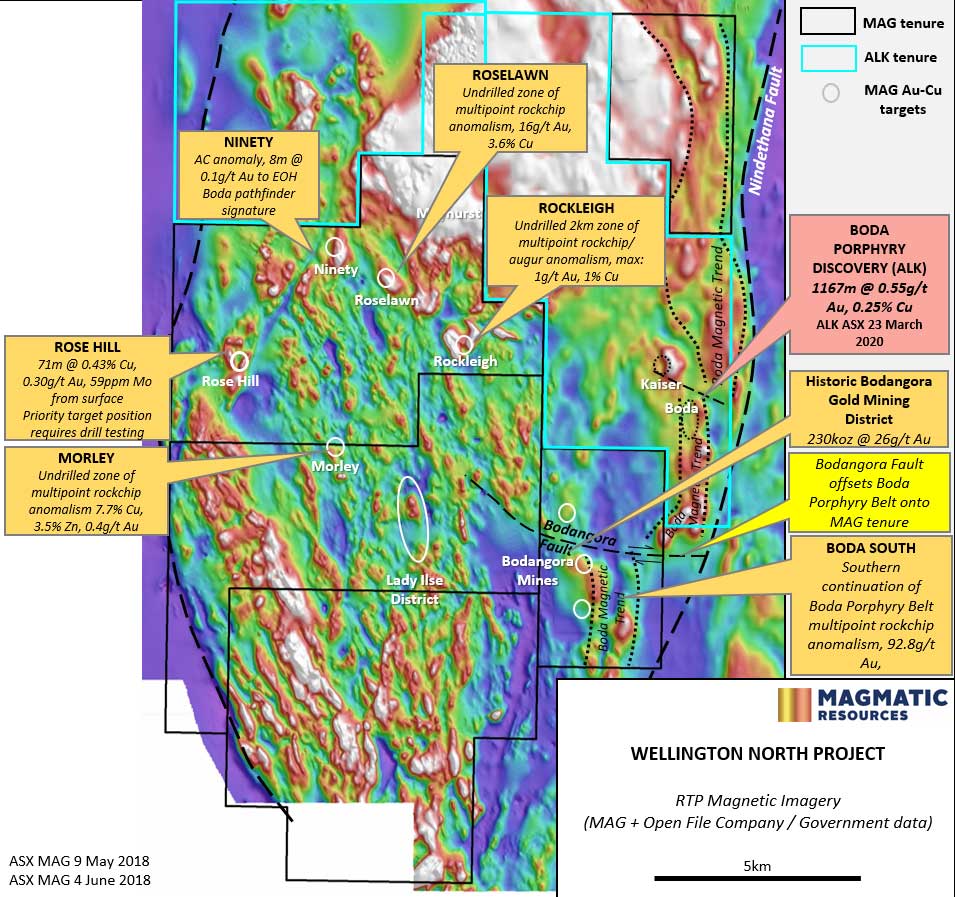 Lady Ilse Prospect
Initial aircore drilling by Magmatic at Lady Ilse targeted a historic regional aircore hole, which intersected 3m at 0.6g/t Au, and a coincident aeromagnetic anomaly. Magmatic's aircore programme delivered promising results with five holes ending in mineralisation, including an intersection of 20m at 0.66g/t Au.
Follow-up RC drilling successfully identified intrusion related gold-copper mineralisation under thin transported cover. Significant drill intercepts included 78m at 0.22g/t Au from 27m, 22m at 0.54g/t Au from 18m and 21m at 0.56g/t Au from 81m.
Recent drilling from the southern porphyry target zone at Lady Ilse has returned the best results to date.  Results received indicate broad zones of gold and porphyry pathfinder anomalism related to variably chlorite-epidote-hematite-albite porphyry altered basaltic volcaniclastics and consistent with the periphery of a Boda-style porphyry system (45m @ 0.44g/t Au, 20LIDD015).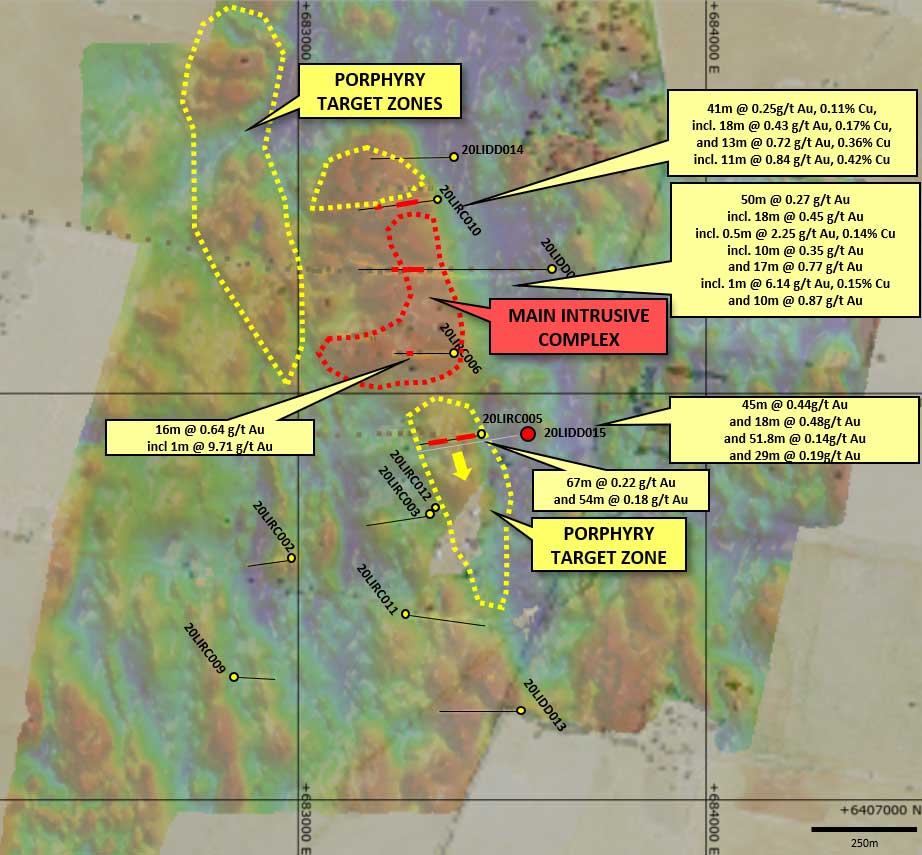 Rose Hill Prospect
Rose Hill is a high priority gold-copper porphyry target for Magmatic where previous drilling intersected 71m at 0.43% Cu and 0.3g/t Au from surface. This is representative of the reserve grade at Cadia East being the largest single alkalic porphyry Au-Cu deposit currently known globally (Fox et al 2015).
Bodangora Target
The Bodangora target covers the historic Bodangora gold mines, comprising two vein-hosted gold operations (Dicks Reward and Mitchells Creek) mined in the late 1800s to early 1900s. Previous production is reported at 226,000 ounces at an impressive grade of 26g/t Au.
Recent drilling by Magmatic confirmed additional gold mineralisation near the former mine workings. Significant intersections included 2m at 5.3g/t Au from 14m and 2m at 2.7g/t Au from 21m at Dicks Reward. The drilling also identified a new area of near surface gold mineralisation at Bodangora South, located 2.5km south of Dicks Reward, intersecting 3m at 1.3g/t Au from 18m.
Additionally, recent data reinterpretation has identified several alkalic intrusives that appear to be an extension of the Boda trend.
Fox, N., Cooke, D., Harris, A., Collett, D., Eastwood, G., 2015, Porphyry Au-Cu mineralisation controlled by reactivation of an arc-transverse volcanosedimentary subbasin, Geology, Geological Society of America