Magmatic has assembled a significant land position covering the Yamarna – Mt Venn region in the north-eastern Goldfields of Western Australia. The Company currently has a 100% interest in 5 exploration licences and 2 exploration licence applications covering a combined area of 529km2. This strategic ground position adds gold, copper, nickel and cobalt potential to the Company's pipeline of targets and diversifies Magmatic's substantial portfolio of projects in the East Lachlan region of New South Wales.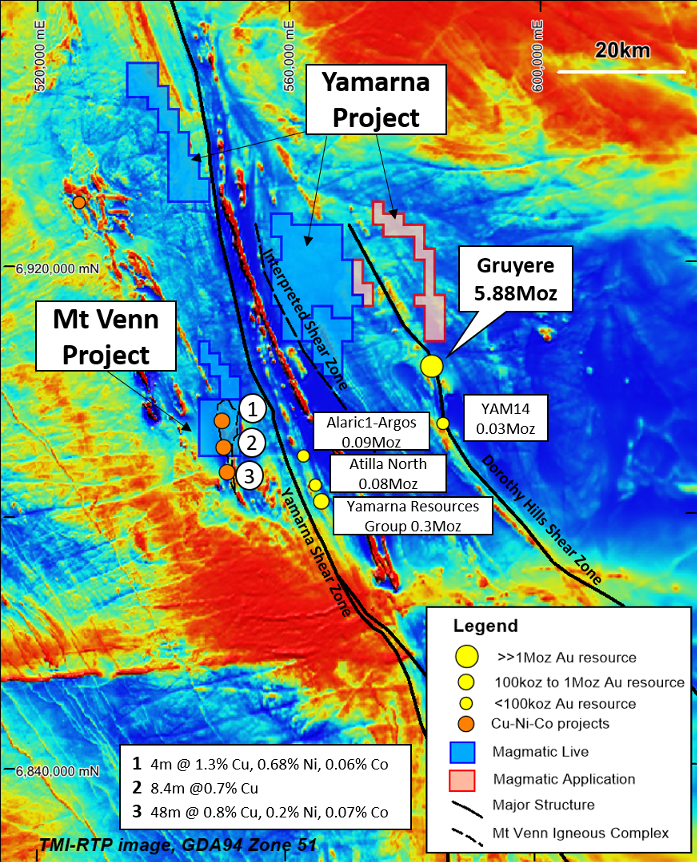 The Mt Venn Project is located 120km east of Laverton and consists of 2 granted exploration licences (E38/2961 and E38/3351 for ~87km2) covering 60% of the Mt Venn Mafic Intrusive Complex, where previous exploration completed along 7km of strike length identified copper-bearing gossans with assays up to 0.24% Cu, 1.89% Ni and 0.18% Co. More recently, Great Boulder Resources (ASX:GBR) reported significant copper-nickel-cobalt drill intersections associated with the basal contact of the mafic complex, including 48m at 0.75% Cu, 0.2% Ni and 0.07% Co and 61m at 0.51% Cu, 0.19% Ni and 0.06% Co.
Magmatic has identified multiple conductors from the reinterpretation of detailed ground EM and heliborne VTEM surveys by previous explorers. The undrilled conductors, including the significant MVVA2 conductor where a nearby hole intersected 13.1m at 0.49% Cu, are located immediately along strike from Great Boulder's copper-nickel-cobalt discovery.
Magmatic has completed a reconnaissance field program at Mt Venn, including soil and rock chip sampling, which confirmed the EM anomalies are situated under shallow cover.
The adjoining Yamarna Project is located 40km northeast of the Mt Venn Project and comprises 3 exploration licences (E38/2918, E38/3312 and E38/3327) and 2 exploration licence applications (E38/3443 and E38/3444) covering an area of 442km2 over the underexplored Yamarna Greenstone Belt.
The Project is only 15km northwest of the recently commissioned 5.88Moz Gruyere gold mine (Gold Fields/ Gold Road JV). Magmatic's exploration team has identified a large-scale regional structure interpreted to be prospective for gold transecting the Company's project area. Previous exploration is limited and includes minor shallow RAB and AC drilling, which Magmatic plans to assess in the near future.